from my previous posts about color obsessions
here
&
here
, I'm usually just into one color at a time. however, i'm simply attracted to anything colorful nowadays...just in time for summer!
I used to dislike anything pastel, I was more gravitated towards bright vivid colors or just black or white. I thought pastel made me look like a trying-hard-to-be-a-goody-two-shoes-little girl. But just like anything, your taste changes and now I'm somewhat attracted to this color scheme... considering that it strays from too girly silhouettes and things. Pastel colors on tough shapes sort of cancel out the frilly-ness.
I have mentioned my lust for the Chloe Marcie
before
and that craving has not been satisfied. And what more now that I see this?! Is it blue? is it violet?
this icy blue Jil Sander is also WOW. O_o
photo from Garance Dore
this pair of pink trousers...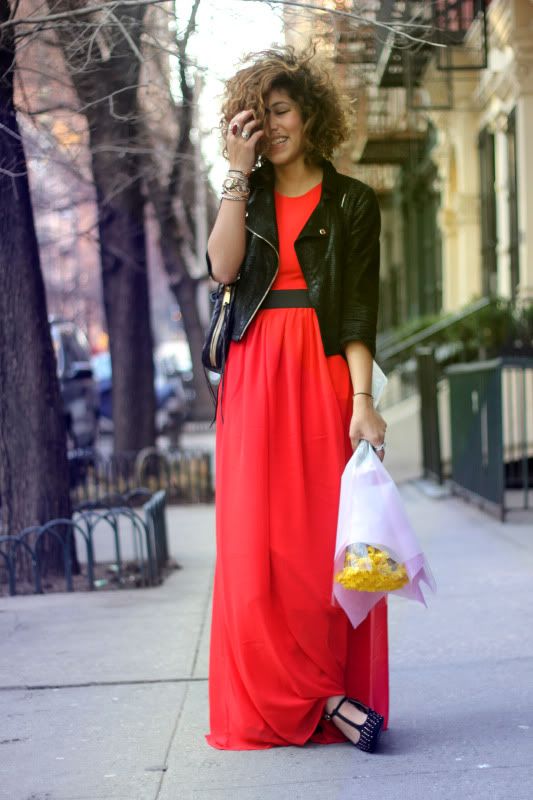 photo from Trop Rouge
i have yet to own a single red dress! And this one that Christina Caradonna is wearing looks luscious!!! I'm not a fan of bright colors on already eye catching silhouettes so this is perfect! Long, flowy and completely covering the wearer...because red is enough as an eyecatcher.
photo from Natalie Off Duty
And yes I am starting to embrace high heels again and I have a current liking for wedges.
...and Ombre Hair!!! Look at how gorgeous Drew Barrymore is!
And here is something I wish I was brave enough to try! (and has somewhere to go to with it on!)
fluorescent eye makeup!!
So far, my toes have gotten a fair share of color this week!